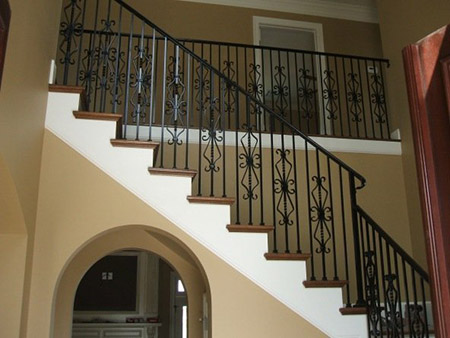 Carpe Diem Iron LLC specializes in iron fabrications for your home or business. We design, fabricate, and install wrought iron railings and other fabrications. Our commitment to quality results in outstanding customer service and exquisite designs. Our full line of services for wrought iron fences and more in Geismar, Dutch Town, Gonzales, Ascension Parish, and Brittany, LA includes:
Design: Do you want to add elegance to your railings? Fence? Windows? With extensive experience, we can create the perfect look for your home or business. We listen to your needs and design a product you'll love.
Fabrication: We specialize in the fabrication of wrought iron railings for all settings. Whether your goal is safety, security, or style, we craft the custom ironworks you desire to complete your project.
Installation: We install everything we fabricate. From design to completion, we are your go-to source for custom iron fabrication.
High-end coating: All our iron products receive a special powder coating. This provides durability and a much cleaner look than paint. This top-quality finish sets us apart from other contractors.
Versatile services: We partner with you to deliver the services that best meet your needs and budget. We are happy to visit your site and measure for your project. Then, we will return to install the completed product. If you prefer, you can submit the measurements and design, and we will ship your completed project to you for self-installation.
Carpe Diem Iron LLC specializes in the following in Geismar, LA:
Wrought Iron Stair Railings
Wrought Iron Balcony Railings
Ornamental Posts
Awnings
Load bearing posts
Columns
Window Inserts
Iron Load Bearing Posts
Gates & Fencing
Custom Curved Iron Staircases
I-beams
Custom Iron Work
Wrought Iron Gates
Commercial handrails
Handicapped handrails
With every project, we are fully committed to excellence in customer service. We have an established reputation for personal, professional care and top-quality wrought iron railings ascensions and more.
Contact us at Carpe Diem Iron LLC today at 225-615-1170 for a free estimate and to learn more about us. We look forward to exceeding your expectations.